ERLAN
The Earth Religions Legal Assistance Network is a service organization operating in the United States and Canada that helps Earth Religion Rights activists communicate so they can help people with legal problems associated with religious discrimination. However, ERLAN, as such, is not the direct provider of the help to individuals with suh problems. The members of ERAL and those individuals and organizations who work with them do that, along with allot of independent individuals and organizations.
ERLAN does the administrative work creating and managing communications mechanisms to help Earth Religionists with legal problems associated with their religion and those individuals and organizations that help them. These mechanisms include the Earth Religions Assistance List (ERAL), many Earth Religions Assistance Websites and such additional communications mechanisms as deemed necessary and appropriate to fulfill its purposes.
The original ERLAN Homepage at http://www.conjure.com/ERAL/eral.html links to other organizations, guidance and information related to our purpose, along with this http://www.erlan.org domain..

ERAL
The Earth Religions Assistance List is dedicated to investigating and providing assistance to Earth Religionists facing legal problems associated with their religion. ERAL is an international network of Earth Religion Rights activists in Cyberspace helping facilitate action by individuals and organizations in the real world. Its area of operation is currently the entire United States and Canada. ERAL has key members of most other Earth Religion Rights organizations among its members.
ERAL is kind of a "911" assistance hotline/list for Earth Religion rights activists and organizations that provides research, and information to attorneys, individuals and organizations assisting Earth Religionists and their Attorneys. Sometimes the individual interacting directly with the individual with the problem or the associated attorney is a member of ERAL, and sometimes not.
For more details, or to subscribe see: http://groups.yahoo.com/group/eral/ or write to lcornett@en.com.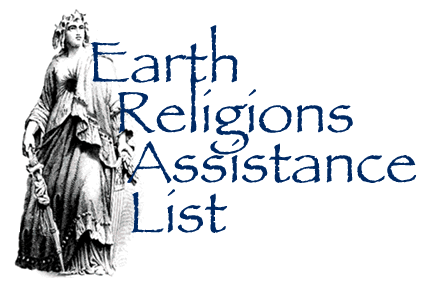 Web pages in this domain include:
Topic Specific Web Pages for Finding Help
http://www.erlan.org/helplink.htm
Earth Religion Rights Organizations
http://www.erlan.org/ERRO.htm
Combined directory of Public Earth Religion Rights Contacts
http://www.erlan.org/directory.htm
Sacred Earth Alliance Homepage Call to Action
http://www.erlan.org/SEAHomepage.htm
Case Documentation And Submission Form (ERAL/ERLAN)
http://www.erlan.org/ERAL-IN.htm
GUIDELINES FOR PRESSING CHARGES (for Tenant Attacks On Landlord, but has much pertinent general information)
http://www.erlan.org/preschrg.txt
Quickly Obtaining Clergy Credentials in Ohio
http://www.erlan.org/CLERGYST.htm
Boilerplate Text for custody cases:
http://www.erlan.org/BOLRPLAT.TXT
Reasons and Resources Decreasing Number of Legal Cases Involving Discrimination Against Pagans
http://www.erlan.org/DecreasingLegalCases-pub.htm
Key to SEA Questionnaire
http://www.erlan.org/KEY-OH-P.htm
Gaia Rising
http://www.erlan.org/GaiaRising.htm
Draft IRS form 1023, Schedule A for NE Ohio Pagan Church
http://www.erlan.org/F1023S-ADr-LC.htm
ERLAN Bylaws
http://www.erlan.org/ERLAN-bylaws.htm
Draft ERAA Articles of Incorporation
http://www.erlan.org/ARTICLES-ERLAN.txt

Reasons and Resources Decreasing Number of Legal Cases Involving Discrimination Against Pagans
http://www.erlan.org/DecreasingLegalCases-pub.htm

Comments on Proposed VA Rules for Approving Symbols on Headstones
http://www.erlan.org/Comments on 1-19-07 Proposed VA Rule.htm
Index Updated 3/11/2012